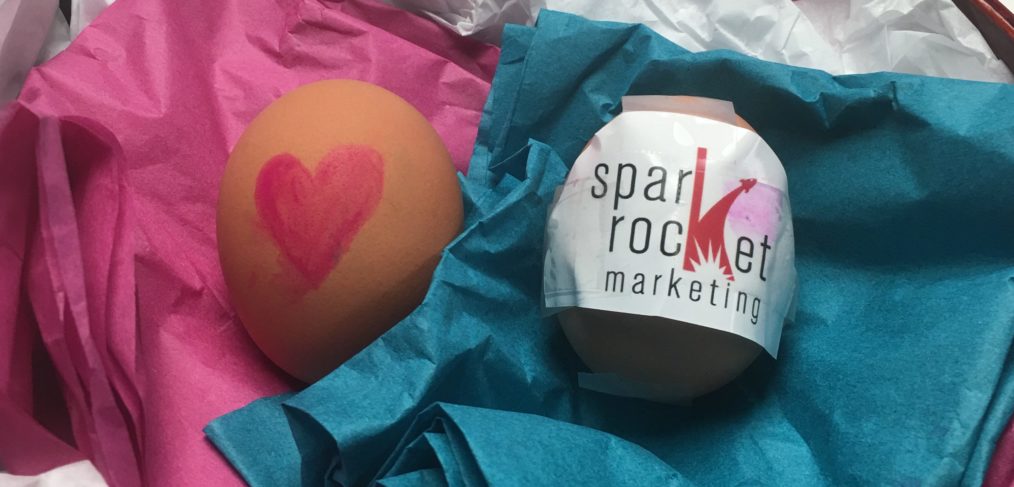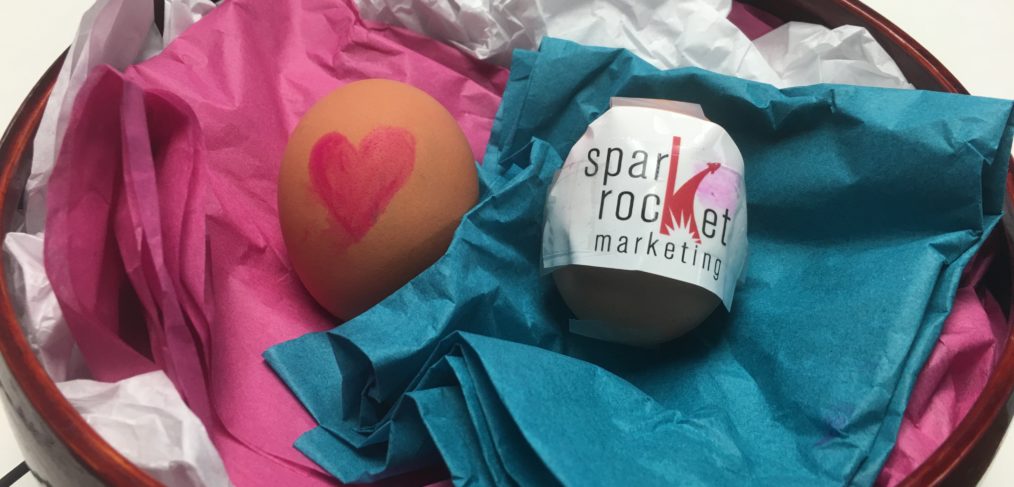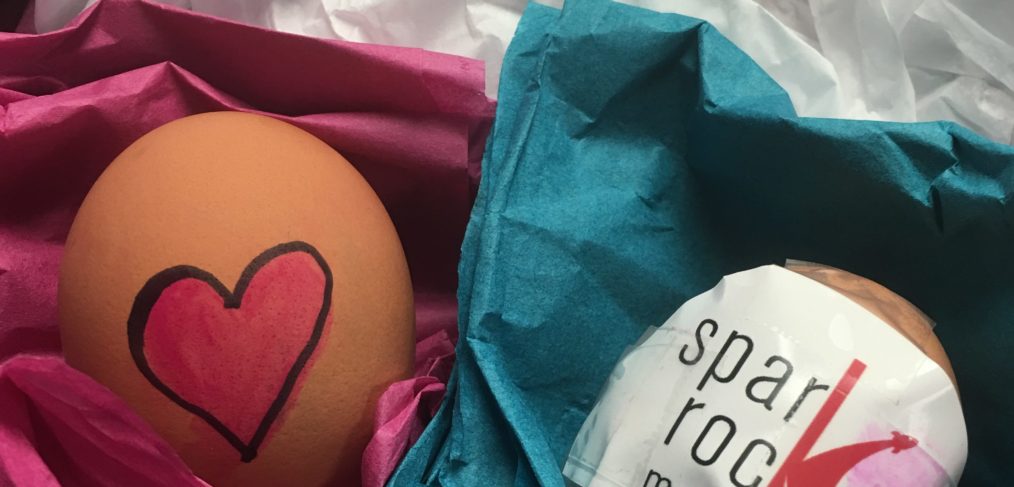 We just gave birth at Mission Command! Well, sort of. We've had "babies" as a social marketing experiment. Yes, egg babies.
Remember that low-tech teaching tool of giving adolescents eggs to carry around to teach them responsibility?
Well, we've decided to have a similar social marketing experiment at Spark Rocket. You see, we're great at advocating for our own technology and start-up clients. We're all about creating engaging content for games, security, real estate, prosthetics, cosmeceuticals, aeronautics and other technology markets and teaching clients how to share it via social marketing to build a following.
But it's giving ourselves the same social marketing love that we kind of really stink at. We forget to pay attention to our own needs and, as a result, neglect to share via social networks some really valuable marketing information. This not only reduces our own self-promotion, it keeps us from engaging with the start-ups and entrepreneurs we adore helping! And it's pretty hard to stand by our teachings if we're not following them (that "the cobblers children have no shoes" saying wears thin after a while!)
Oh — and we want to be better stewards of our personal health too. After all happy, healthy Spark Rocketeers means better service for our clients!!!
So in that vein — our core team had babies. Raw egg babies. (Uhm, as an aside, we are amazed that the first question people ask are if they are raw? I promise, we have NO plans to eat our babies at the end of the experiment. Just sayin'.) Two of them. Each. And each baby has a series of "feeding times" and we have to keep them with us at all times as a physical reminder that taking care of ourselves is important.
Social Marketing Progress: How are the babies?
Thus far, in three days of our social marketing experiment, no one has killed cracked their baby. So that's good. And at "feeding time" we have done things like:
Written several blogs
Updated our social accounts
Done training in new social media best practices and analytics management
Added a REALLY NEAT software script to our Twitter account to boost engagement!
Cleaned up our emails
Practiced self-care: stopped to mediate for ten minutes, drink an extra bottle of water, chat with co-working office members (who are really enjoying seeing how this experiment is going!) or take a walk around
So, we'll let you know how on this blog and via our social channels how things go (of course, if we don't — you'll pretty much know the results!).
Meanwhile — wish us luck with our babies. Feel free to ask us YOUR questions about them (and tell us they are the cutest raw egg babies you have ever seen), and feel free to share what crazy practices YOU use at your office to stay on top of "entrepreneurial self care."
Happy entrepreneurial technology marketing from the gang at Mission Command!